Vizcarra Torralvo Gran Reserva
<< Previous wine
Next wine >>
Juan Carlos Vizcarra is a man of intensity, passion, and incredible ambition. Though his family has grown grapes in northern DO Ribera del Duero for more than four generations, he was the first to make estate-bottled wine from this fruit starting in 1991. The story goes that when he was a boy, he noticed that the historic estates of Vega Sicilia and Pesquera would come to his family in bad vintages to buy fruit. Realizing that his family must have truly special vineyards of the highest quality, Juan Carlos took it upon himself to begin producing wines to express this blessed terroir and heritage. Like all the wines at the tiny Bodegas Vizcarra, Torralvo is made using gravity-fed winemaking to preserve the freshness and elegance intrinsic to the limestone plots found in northern Burgos. Meticulous in everything he does, Juan Carlos applies his detail-oriented approach to every facet of the winemaking process. Torralvo is the only single vineyard wine that Juan Carlos makes, from one of the highest-altitude parcels on his estate. Planted in the early 1960s, Torralvo is a traditional head-pruned parcel of 100% Tempranillo, farmed organically. Fermented with indigenous yeasts, Torralvo offers a truly unique expression of place for Juan Carlos. In this bottling, he offers a wine to age, one that will improve with a decade or more in the bottle.
WHAT MAKES THIS WINE UNIQUE?
The Gran Reserva Torralvo is a barrel selection in only the very best of vintages. The fruit coming from the oldest Tempranillo vines from the Torralvo vineyard.
RATING HISTORY:
2015 97 Proensa Guide, 94W&S, 93TA; 2011 92W&S
GRAPE:
100% Tinto Fino (Tempranillo ). Vines planted in 1954. Tended in sand, gravel and clay soil at 830m (2,723ft) elevation.
PAIRING SUGGESTIONS:
Charcuterie, red meat, game.
VINIFICATION AND AGING:
Aged for 30 months in 80% French and 20% American oak barrels of 225L and 228 L.
LOCATION, SOIL, CLIMATE:
Vineyards are located in the town of Mambrilla, at 849 meters (2,785 ft.) elevation. This town is in the northern central area of the Ribera del Duero DO (Zone 2), within Burgos province in Castilla y León. For soils, out of the eleven parcels farmed to make Vizcarra Torralvo, there is predominantly sand, clay, limestone and gravel. Juan Carlos reduces yields by thinning grape clusters from 20 to 8 per vine, and by allowing other foliage to flourish around the vines to absorb the potentially excessive water and nutrients from the soil. Reducing the vine's yield and vigor maximizes the intensity and concentration in the grapes. The area's climate has an average temperature from April-October of 60'F and the average annual rainfall is 18 inches. From its higher altitude, Ribera del Duero's northern central area within Burgos has a cooler climate than either Toro or Rueda, to the west and southwest, respectively. Here, the wines are usually darker, more concentrated and have more forward aromas than wines made in the western part of Ribera del Duero. An extreme Continental climate, with cool nights and hot days with moderately low rainfall, provides a longer ripening period, and results in wines with greater complexity and more expressive, intense aromas.
TASTING NOTES:
This wine is full-bodied, with a great balance. Its nose is intoxicating with toasted notes of aging taking center stage without concealing the variety's aromas of ripe black fruit. On the palate it is silky, with a majestic mouthfeel and a lingering and lasting finish.
ALCOHOL CONTENT:
14.5
UPC CODE:
8437015799384
Love this wine?
We'll keep you in the loop about special edition cases, recipes to pair, winemaker events and more.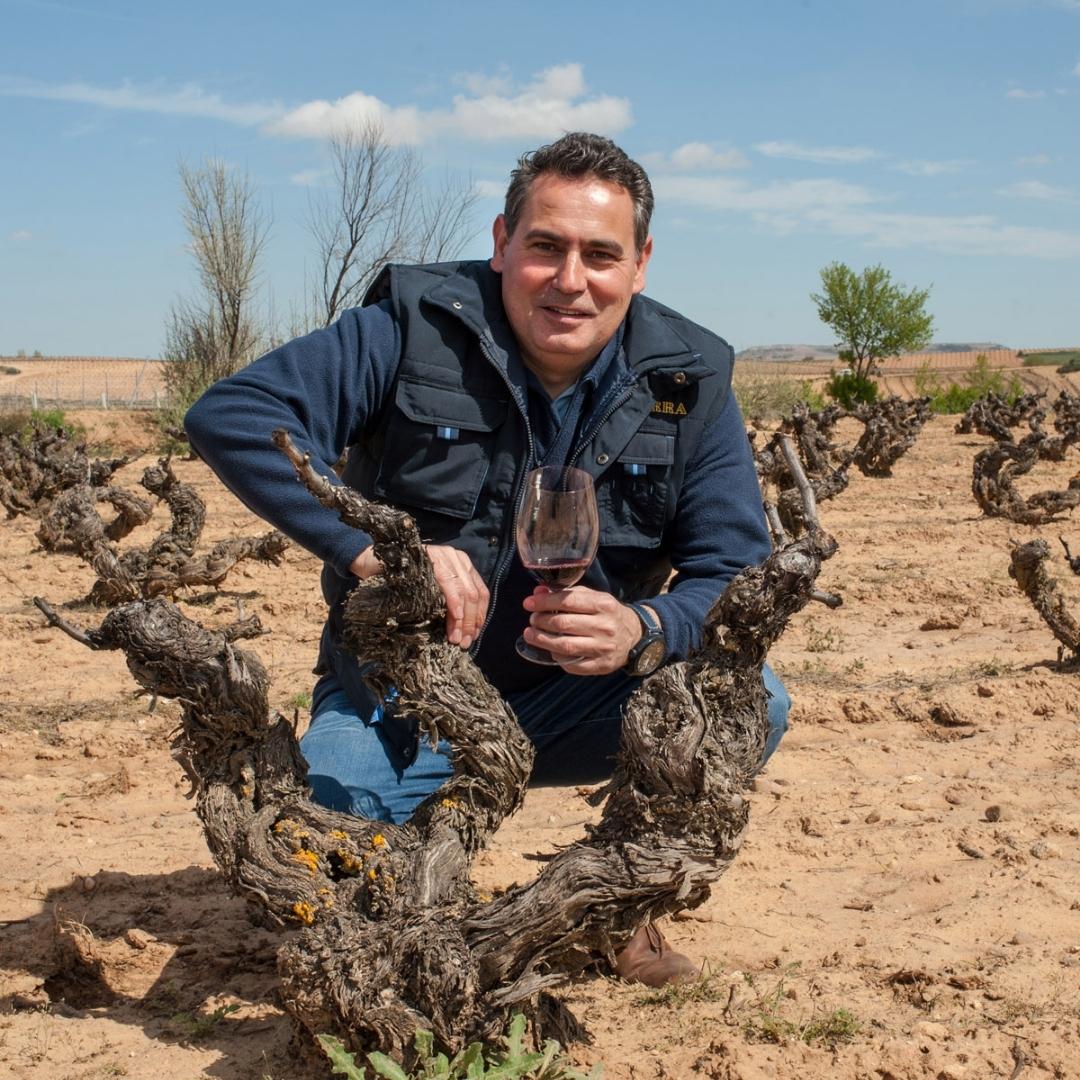 Juan Carlos Vizcarra Winemaker bio